The iconic Maltese Kinnie 'Goes Aperitivo'
Following bluemarlin's successful re-design of the Kinnie core brand, the two joined hands once again to tap into and disrupt the growing ready-to-drink & aperitif markets, both locally in Malta and overseas, by innovating and staying ahead of the curve.
Given Kinnie's decades long promotion as a non-alcoholic beverage, Bluemarlin was briefed to define the strategic rationale and design direction for the development of the brand's first ever alcoholic 'Kinnie Spritz' – premium positioned and leading on the aperitif occasion.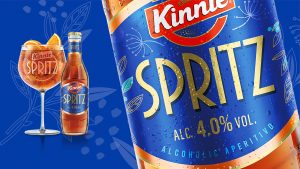 "One of the reasons we went for this classic look was to elevate the brand's adult proposition while still maintaining the nostalgic connection consumers had to the Kinnie masterbrand. Kinnie fundamentally is a Maltese soft drink drunk by younger audiences, hence, we went very bold and clear about the alcoholic offering," stated David Hodgson, Co-Founder and Executive Creative Director at bluemarlin
Kinnie Spritz is designed to evoke strong memories and take us back in time, while encouraging us to embrace the moment. Hence it balances a contemporary style illustration of botanical leaves, mixed with a classic typographic style that is evocative of an era. The result feels elegant and timeless, yet full of energy. The deep and rich colour palette gives it a level of sophistication and premiumness; while the subtle introduction of the Kinnie orange and red reinforces the connection to the core Kinnie.
To bring the brand to life, our communications painted an image that transported consumers and captured the spirit of the 'Kinnie Spritz moment'. The visuals in both the digital and OOH invite viewers to close their eyes, feel the heat, hear the waves, sit back, and relax. Evoking the mood of a sundowner, leaning towards a cocktail vibe. Through the strapline and copy, we boldly communicated the hit of alcohol ('kick') of this refreshing and light drink.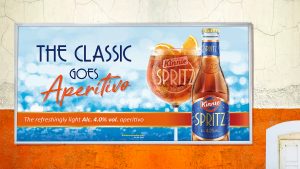 The impact of this unique offering speaks for itself. New packs hit shelves earlier this spring, and the brand has reported a record-breaking increase in sales in just three weeks, attracting new buyers.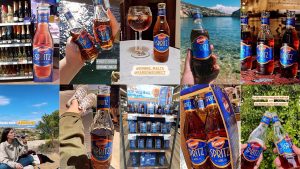 "The launch was announced by a single social media post carried on the Kinnie Facebook Page – which immediately almost went 'viral' and garnered well of 100,000 views within 24-48 hours. The reaction by the consumer was incredible and unprecedented.  Almost overnight we had well over 100,000 persons talking about Kinnie Spritz and sharing the post on their own personal pages", added Susan Weenink Camilleri, Head of Sales and Marketing, Kinnie.