Soft drinks brand Kinnie basks in the sun for a bigger brighter future
Drinking to the past to grasp the now
Malta's own favourite soft drink re-launches with sparkling new designs which pay homage to its past glory with a confident eye to the future.
Kinnie, a Mediterranean bittersweet carbonated soft drink, brewed from oranges and aromatic herbs, has been enjoyed by successive generations since its beginnings in1952. For many older brand loyalists, it never lost its appeal, but younger audiences were failing to understand what the brand stood for. Brand owners, Simonds Farsons Cisk plc, partnered with international design agency bluemarlin to embark on full brand re-staging to connect with non-users by developing a new identity and packaging, supported by guidelines as well as collaborating on a full-mix launch campaign.
The bold new designs encapsulate the brand's premium positioning, celebrating its heritage with a nostalgic twist while embracing an exciting future of innovation and adventure by adding a fresh and contemporary dimension. Always true to its Mediterranean culture and roots, the new identity has been brought to life across packaging and variant ranges, and an extensive suite of creative assets including marketing communications, in-store merchandising, signage and transport livery.
Key to the design solution is the new simplified logo that confidently expresses the brand's provenance and personality on pack, together with a series of carefully crafted illustrations that evoke timeless nostalgia and a Mediterranean lifestyle of sun, sea and languor but with clever contemporary twists. Both elements ensure consumers will find the brand instantly appealing and memorable, supporting the brand's promise of bittersweet refreshment.
The result is a new brand identity that invites consumers to rediscover this Mediterranean classic as the biggest flavour under the sun.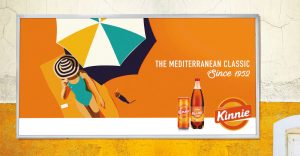 Susan Weenink Camilleri, Head of Marketing & Communications comments, "Our bold new designs reflect our ambition to grow Kinnie into a truly global brand. We have looked at world trends and listened to local consumers across generations. The result is a redesigned iconic brand that takes a great leap forward with an exciting new look and tone of voice, whilst giving a warm and nostalgic nod to the past".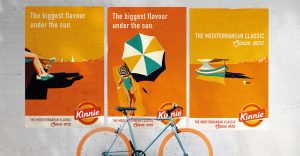 David Hodgson, bluemarlin's Executive Creative Director adds, "The new Kinnie identity and packaging not only is rooted in simpler times and the sights, smells and textures of the Mediterranean, but also captures the now, inviting consumers to enjoy a special moment." He continues, "Our 3D design expertise was also key, as consumers young and old at research spoke fondly of the original 1950's glass bottles, we took this as our starting point for leveraging the brand's iconic design cues to create three new, textured PET structures."