StratBrats Wanted
A few weeks ago we celebrated national apprenticeship week – an annual opportunity to recognise the impact of apprenticeships on individuals, employers and the economy. A trinity of sorts, where you hope the results are equally positive for all.
You may have read our opinion on trinities. In short, the power of three intentionally turns up in a lot of our strategic work. From the way that we conduct research and distil our insights to the way we form a big brand idea on the trinity of Human Truth, Category Truth and Brand Truth. This trinity of individual, employers and the economy is no different. Two elements can be mediated by a third or the ultimate aim to find all three in unison with the balance of equal importance, value and gain.
Over the past few months we've been lucky enough to welcome strategy interns (virtually) to the team and there just happens to be three…
Meet the StratBrats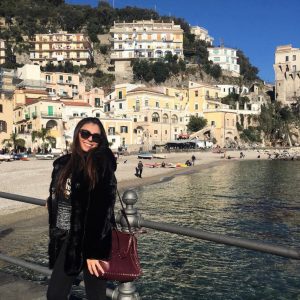 Marianna – A nature lover, gym enthusiast and fanatic when it comes to exploring new food places in what ever city she finds herself. Marianna moved from Puglia, Italy to the UK when she was 15, and completed her masters in London last year.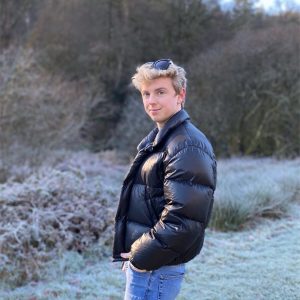 Freddie – A true gallery and museum wanderer, not to mention his interest in cooking, reading, and fencing. Freddie studies Latin and Ancient Greek as well as art and fashion with a love of the theatre, both watching and performing. Edinburgh sounds like the perfect place for him to be.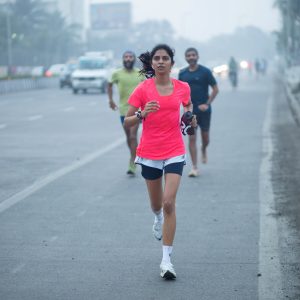 Rashi – A marathon runner, sport fanatic, adventure seeker and absolute dog lover. Born and raised in Mumbai, Rashi came to the UK for her bachelors degree, and then stayed for a masters in strategic marketing at Imperial college London.
What's in it for them?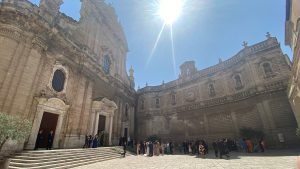 From building brand fundamentals for a renowned Indian nutrition brand, to innovation workshopping with the UK's biggest honey brand, name generation for a new beer in Finland, and finding rich insights for our recent thought piece on Male Grooming, they all fondly noted that a real perk of a strategic role at bluemarlin was that no two days were ever the same.
Bravery is a principle we talk about a lot as an agency – Marianna, Freddie and Rashi didn't disappoint:
"Are my slides being shown to the client?" Marianna
"Are you implementing my suggested structure for your thoughts piece?" Freddie
"Do you mind if I join the client call for experience?" Rashi
As you may have guessed, the answer was, naturally, yes. Rashi ended up presenting.
And with that came a huge amount of exposure internally too:
"I shared my findings with the CEO and even saw what goes on behind the scenes with the new business director" Freddie
"Having learnt all about theoretical branding frameworks in the class room it was great to work with the strategy and design directors to see how they are applied and executed in the real world" Marianna
In the words of legendary football manager Matt Busby "If you're good enough, you're old enough".
What's in it for us?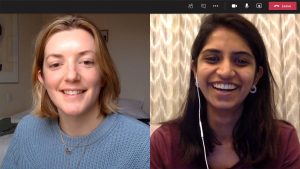 It's important to note that working virtually is nothing new for us. For 27 years we have strategised and creatively solved problems for global clients thousands of miles away, be it from our Somerset hub, or combined with our satellite studios in London, New York and Mumbai. Of course, in a creative industry nothing beats the energy in the room of face-to-face collaboration, but what we can still truly capture is the idea of Cross Pollination – one of our core principles.
It's about being boundless by being borderless. The best work happens when we combine multi – disciplinary thinkers who love the challenge of multi-channel creativity and then apply their learning's from across categories, consumer groups, continents and more.
Well, our interns bring us exactly that.
Their academic studies bring a new sense of depth. Their experience of travel and cultures contrasted from their own brings a personal point of view that no amount of money can buy. And the truth is, that no matter if you've been in the industry for 30 years or 3, we can all go "snow blind" at times.
We imparted what wisdom and experience we've gathered over 27 years as an independent agency. From the ancient streets of Puglia, the cobbled alleys of Edinburgh and Marine Drive in Mumbai, Marianna, Freddie and Rashi helped to open our minds, and see the world through a new set of eyes.
Completing the trinity – The Economy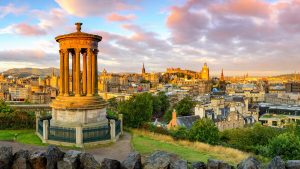 We've all seen the headlines – 'The uncertain present and future for recent graduates' (BBC News), 'More than half of final year students lose jobs or internships' (Prospects UK), 'Gen Z grads risk falling behind in pandemic economy' (Guardian), it is truly a turbulent time for entering the job market.
An economy is actually described as a social domain. It's the interrelation of human practices including culture, values, education, technological evolution, history, social organization, political structure and legal systems, as well as its geography, natural resource endowment, and ecology.
We like to think that, although on an international or even national scale our internship program is just a small contribution to that system, what has been very apparent is that no matter how small it may be, the need to nurture great young talent and invest in grass root opportunities is more important than ever, and a truly invaluable part of our business too. Rashi has joined us full time with a well-earned place on the strategy team.
A successful economy has never been about standalone success, but how all parts of the machine work together and thrive as one. Our little system, even in a virtual world, aims to prove exactly that.
The door is always open and we are constantly on the search for great talent so please get in touch with danmonteith@bluemarlinbd.com for any upcoming opportunities in Strategy.