A Q&A on Adrenaline with our Executive Creative Director, Tony Fox
Our proposition of Acceleration, delivered through Depth, Adrenaline and Growth.
A Q&A on Adrenaline with our Executive Creative Director, Tony Fox.
Let's start with a bit about you and what gives you adrenaline? 
When I was younger, I was up for doing mad sporty things and the riskier the better. If someone had said to me let's jump off that cliff, I would have said let's go off that one, it's higher. I didn't progress to base jumping or freefall but instead I now harness the sensation of speed and adrenaline through the creative process, which is often filled with fear and risk. Every creative journey starts with the unknown and can end up in an entirely different and sometimes unexpected place. Embracing this can be incredibly exciting!
I have always and will continue to always do the best work I possibly can whatever the situation and the constraints. It's a driving force I want to bring to bluemarlin.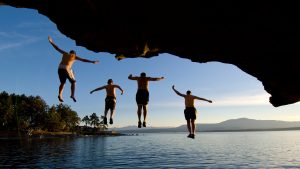 Adrenaline is a very abstract concept, what does it really mean?
If you're only ever eating pasta, you're missing out on sushi. It's about embracing the world in all its beauty and chaos. It's about real perspectives and cross pollination, not least to serve our clients in different territories, but most importantly leveraging our knowledge from one territory or category and applying it elsewhere. It's both a tool and service for ourselves and our clients. It's about never being complacent, that's the worst thing for creativity.
Often clients want to know what you have done in their sector, but we should challenge them. Adrenaline is about positive provocation. We aim to inspire, surprise and ignite a new conversation from the parallels that we draw. We're a group of great minds – thinkers, crafters, activators where the peripheral vision just grows, and the perspective gets wider.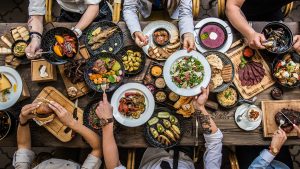 Can we relate this to examples in our industry and creative discipline?
The world has changed so rapidly and is continuing to do so, and it has changed our entire outlook, our processes and way we see the world. We might be physically more static in our own worlds, but our behaviour has really sped up.
I am still a firm believer of in the hand and in the heart, holding and experiencing an object is a wonderful human capability, but adrenaline is really felt through a full integration of both the physical and digital world. Bluemarlin's proposition fully embraces exciting opportunities we can harness for our clients. Brands can be truly accelerated through the digital world, from the smallest interaction to the largest experience. Our recent work for Crosta & Mollica bears witness to this.
 Why should brands and businesses care about adrenaline?
Adrenaline is that feeling of something you have been waiting for, something new, when you think future first, when you take a step in a new direction. Those feelings are totally embedded in the consumer experience too – although we deliver adrenaline through our process it's a really powerful sensation that we want all consumers to feel. A heart flutter or a moment in the mind, a bit of magic that's meaningful in their lives.
Brands that succeed now and in the future are the ones that look beyond making a buck. They truly believe in their product and genuinely care about customer relationships – that's why we do what we do.
So, why bluemarlin, what makes us different?
We have all the components that are critical to success in the current climate – wealth of experience, depth and breadth of talent, enormous drive and passion, combined with the agility and mentality of a start-up. We have a core team of highly skilled experts, supported by our virtual network so we can deliver the right solutions for our clients. We have the ability to work at pace and stay dynamic.
We have a depth of understanding and skills across almost every sector and industry. This allows us to constantly challenge ourselves and clients about how we do things and why, and through a braver challenger mentality, explore unchartered creative territories to land on brilliant solutions.
Want to know more? Feel free to get in touch with us on newbusiness@bluemarlinbd.com
Up next...