Crowmoor Vodka Spritz flies in just in time for summer
Brand acceleration agency bluemarlin has helped its long-term partners at Sinebrychoff, the leading brewery in Finland, pioneer the hard seltzer category in the region with the creation of Crowmoor Vodka Spritz. Playfully vibrant whilst still strongly connected to its legendary roots, the design for the new sub-range adds a bit of wit and sparkle to the Crowmoor portfolio.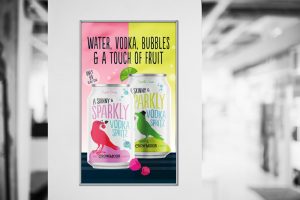 Hard seltzers have recently gained popularity in Finland with more and more drinkers seeking refreshing alternatives that are low in alcohol and low in calories. Keen to brave the market as the country's first homegrown hard seltzer, Sinebrychoff decided to launch its new range under the Crowmoor brand. With the promise to enliven and entertain with unexpected perspectives, brand owners believed that the new offering would be a perfect brand fit for the legendary cider.
 As Crowmoor's brand guardians, bluemarlin was able to craft a brand expression that was enticing and exciting, yet still intrinsically linked to the masterbrand's values. The full scope of the project involved positioning, naming, visual identity, packaging design and POS.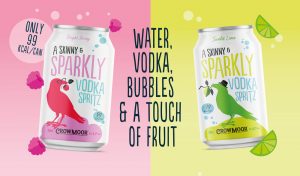 As it did when rebranding the masterbrand, bluemarlin crafted a legend to articulate positioning and guide the creative. 'The Intrepid Crow' tells the story of exploration driven by curiosity and the discovery of the unexpected. Inspired by these world adventures, the range features intriguing flavours destined to become instant summer classics.
Igniting the imagination, the design features zesty colour and fanciful typography with our hero crow flaunting his finds from his wayward travels – a pair of glasses and a raspberry, a hat and a lime. Copy reinforces the product's calorie-light benefit whilst bubbles add a refreshing finishing touch.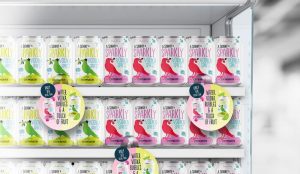 "This new range gave us the opportunity to bring out another side of Crowmoor. Its curious, not-so-serious nature and its lust for life," comments Katie Eaton, Creative Director at bluemarlin. "Where the core range reveals the brand's mystical origins, the new hard seltzer range tells the story of the brand's thrilling escapades. It's bright and light-hearted, but still very much Crowmoor."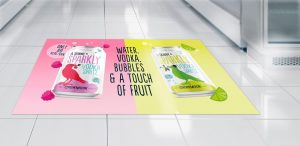 "Crowmoor Vodka Spritz is already a big summer hit, enchanting consumers and leading the creation and development of the hard seltzer category in Finland, just like we intended in the first place," comments Juhani Jalkanen, Marketing Director, Ciders and RTDs at Sinebrychoff. "Bluemarlin has once again crafted an identity that captures the effervescent character of the Crowmoor brand with rich storytelling and inspired design."