Pure & Stunning design for Kaya Youth
Marico, along with experts at Kaya Skin Clinic, have launched a new retail range with a striking design created by brand acceleration agency, bluemarlin. The new range, called Kaya Youth, redefines the anti-ageing category as 'pro-youth' with the aim of making women feel more confident, empowered and gorgeous.
The new skincare line is targeted at 30-year-old women who are thinking of adding an anti-ageing product to their beauty regime to regain the natural glow of their 20's. Developed specifically with the unique properties of Indian skin in mind, Kaya Youth needed a packaging design that was clean, pure and energised.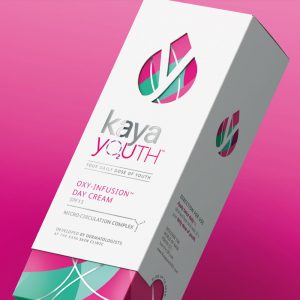 Focusing on the central values of transparency, self-expression and individuality, bluemarlin created a design that celebrates inner beauty and youth science. A main focus of the design is the Kaya dewdrop of youth, which cleverly features a diecut of a 'y.' The dominance of white on the outer sleeve suggests purity and cleansing, whilst the inner box is vibrant with a kaleidoscope of colour bursting through.
Balancing efficacious needs with aspirational desire, the pattern design of the inner carton reveals intertwined dewdrops reflecting the oxygen science that sets the new skincare range apart. Developed by 200+ dermatologists, Kaya Youth gives a 'daily dose of youth' through its unique micro-circulation complex which enhances the supply of oxygen to the skin cells. The brand colours further communicate the benefits of this special formulation, with teal representing oxygen and the pink representing skin. Metallic silver details add scientific credibility whilst also retaining the premiumness of the product.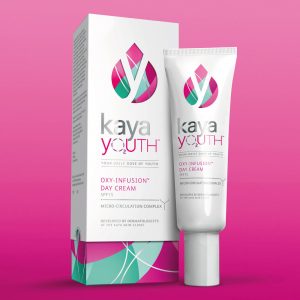 This portrayal of the unique properties of the range seeks to help women feel amazing throughout the ageing process.
"Marico recognised the fantastic opportunity in Kaya Youth as the new retail brand in premium skincare that reflected the new values of the modern Indian woman," comments Ashwini Pable, Director of Strategy and Business at bluemarlin Mumbai. "To create appeal to this, we focused on creating a design that was sophisticated as well as spirited. The result is an identity that embodies female empowerment and lays the foundation for a future powerbrand that stands out from the rest."
Up next...