Out of the Blue: Sinebrychoff's KOFF Long Drink pays off
If you were alive in 1952 and lucky enough to be in attendance at the Summer Olympics in Helsinki, you would have been able to taste a Long Drink at its exciting debut. In the many years since, this refreshing gin-grapefruit concoction has become a national favourite with many Finns drinking it to unwind at home, in the sauna or at the bar.
As a RTD category, however, it had been on a downward spiral. Recent legislation allowing spirit-based beverages with a max of 5.5% alcohol to be sold in grocery stores gave it a promising spike, but it was anticipated that this wouldn't last – especially as the current players in the space had become dusty, uninteresting and increasingly distant to a new generation of adult consumers.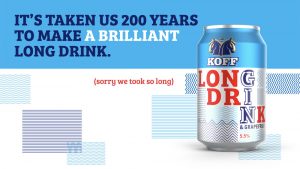 Leading Finnish brewery Sinebrychoff confidently believed that they could drive category growth by introducing a new Long Drink product. One that had strong, authentic Finnish roots but was also firmly in step with the rhythm of the modern landscape.
Designing "The Other Long Drink"
Sinebrychoff turned to their creative partners at brand acceleration agency bluemarlin to create a powerful identity and product story that disrupted the Long Drink category, rattling consumers out of nostalgic-driven autopilot to experience something cool, contemporary and exciting.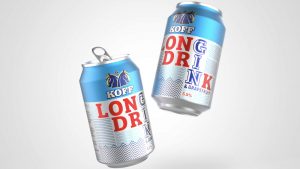 Bluemarlin's creative solution for KOFF Long Drink comes "Out of the Blue," giving the classic Finnish drink a modern twist with elements of craft that are playfully unexpected. Cool line patterns convey refreshment whilst bold typography delivers confidence and shelf standout. The stacked layout of 'Long Drink' cleverly reveals the word 'Gin' showing that the brand is willing and ready to have a bit of fun. The design may use the standard category blue, but it incorporates KOFF's signature red, providing a strong contrast that is not only eye-catching but also connects the new offering to the heritage brand's timeless values of quality and great taste.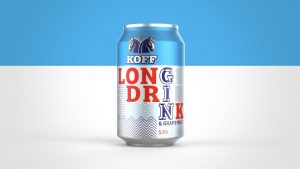 The launch last summer far exceeded expectations – KOFF Long Drink not only gained awareness rapidly, but more importantly, it converted it into sales. It has already achieved twice the market share and is on track for another record year with double-digit market share in a matured market. It has also been named one of the key drivers halting the 6-yr category decline.
"We're thrilled with how KOFF Long Drink stands out on shelf. Through design and physical availability in-store, it highlights where many of its competitors have neglected the need to evolve in order to keep consumers interested."
— Juhani Jalkanen, Marketing Director, Cider & RTDs at Sinebrychoff
A long-awaited alternative to the old timey competitors, KOFF Long Drink broke the category dullness to the delight a new generation of Long Drink drinkers. It is now the proud winner of an Effie 2019 Award and a GDUSA Packaging Design Award.