Bluemarlin Take Home Gold and Silvers at the 2019 FAB Awards
A triple win at this year's FAB awards!
Our redesign of Treat, Britannia Industries' best-selling sandwich cream brand, was awarded Gold in the brand redesign category.
Our work on Ballantine's 17YO Seoul Limited Edition and Wainwright's Honey were both awarded Silver in the packaging design category.
The FAB Awards is an international Awards program focused entirely on work done for Food and Beverage brands. Recognising the critical contribution that outstanding creative work makes to building brands, The FAB Awards identifies and awards the leading agencies for their transformative work in delivering creative excellence and effective commercial results.
We are proud to share this award with our clients Britannia Industries, Chivas Brothers, and Tropical Forest Products, and thank each of them for giving us the opportunity to deliver more profitable futures for their brands.
Through insight driven intuitive design, we accelerated their brands by ensuring they live in the hands, hearts and minds of their consumers.
Meet the Winners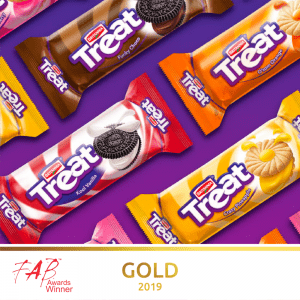 Contact newbusiness@bluemarlinbd.com to learn more about these projects and visit www.bluemarlinbd.com to view our latest portfolio