Bluemarlin breathes new life into Thatchers Rascal
Brand acceleration agency bluemarlin has rebranded Thatchers Old Rascal to leverage the growth opportunity in the traditional premium segment of the cider category. Now to be known simply as Thatchers Rascal, the captivating new design for this boldly bittersweet, surprisingly smooth cider recently hit shelves nationwide.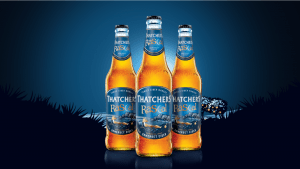 With consumers drinking less but better, mainstream lager and ciders brands are currently experiencing a decline, whilst traditional premium brands are picking up traction. Drawn to product complexity, craft and flavour, these characterful offerings are appealing to a demographic of young professionals who are willing to pay more for a more distinctive and discerning beverage experience.
Thatchers Old Rascal was a great tasting, long-standing brand with the ability to be fun and playful. Its packaging, however, was not standing out at shelf or appealing to the target audience. Its brand story had lost its thread and needed to be reimagined to reflect the brand's promise of bringing intrigue and taste complexity to an often predictable drinking experience.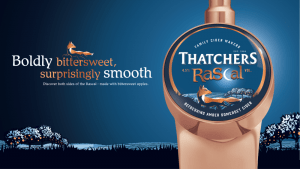 The Somerset cider makers turned to bluemarlin for a complete rebrand of Old Rascal Cider that would not only to maximise impact at shelf, but also to create intrigue and relevance in a consumer repertoire. The challenge was to strike the right balance between authenticity and attitude to create a premium and contemporary design that would captivate the target audience whilst communicating Thatcher's credibility.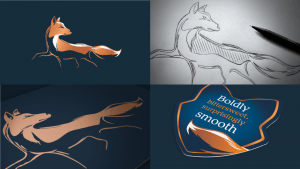 In simplifying the name, Thatchers Rascal now has a modern identity that is refreshingly bold. The new wordmark cleverly incorporates the crescent moon, whilst the metallic finishing of the rest of the lettering elevates the brand's premium credentials. Its updated colour palette of dark midnight blues and rich coppers creates a dramatic effect whilst also setting the tone for a new brand story. The fox is now an amber silhouette in the light of the moon. This Rascal is not a thief but a protector of the orchards that only ventures across Myrtle Farm under the cover of darkness.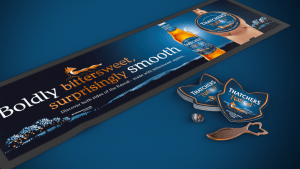 "We gave Thatchers Rascal a brand rejuvenation that is contemporary and captivating without being radical and over-the-top," comments Dave Hodgson, Creative Director at bluemarlin. "The new design is both enchanting and sophisticated, sparking the imagination whilst also communicating the authenticity of its craft, flavour and quality."
"With its perfect balance of bittersweet smoothness, Thatchers Rascal has always been a gem in Thatchers' portfolio," comments Yvonne Flannery, Head of Brands at Thatchers. "Bluemarlin's creative solution has re-energised the brand, giving it an opportunity to tell a powerful new story that is sure to appeal to curious cider drinkers looking for a refreshing discovery of great taste, premium craft and unmatchable quality."