Battery 2019 Limited Edition launches with B&W design by bluemarlin
Battery Energy Drinks has introduced Limited Edition Licorice Boost with a stark black and white design created by international brand acceleration agency, bluemarlin.
Owned by Sinebrychoff, Finland's leading brewery, Battery offers a portfolio of energy products that help consumers, "Reach for More." With exceptional taste and superior refreshment, Battery gives you the energy to perform at your best, turning everyday challenges into easy wins.
 In a category that has become a bit sluggish when it comes to innovation, Sinebrychoff was looking to grow the Battery brand by offering new and existing consumers alike with something exciting and different – not only a stylish can, but also a new flavour experience.
The Carlsberg-owned brewery turned to their creative partners at Bluemarlin to ideate concepts for the brand's "must have" 2019 Limited Edition launch. The project involved creating a design that was both desirable and exclusive, with intriguing taste appeal.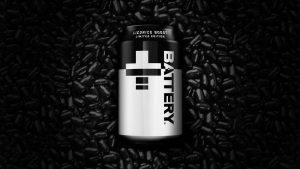 Offering the great Battery taste that consumers love, with a little licorice to help stimulate the mind as well as the body, Battery's 2019 Limited Edition Licorice Boost features a design that is bold, simple and powerfully arresting. The contrasting black and white colour scheme conveys the new flavour's aromatic licorice bite, whilst also reinforcing the brand's energy ethos by encouraging Battery drinkers to turn negatives into positives.
"In developing a concept for Battery's 2019 Limited Edition launch, we really wanted a design that created intrigue and excitement while still maintaining the minimalist aesthetic of the core range," comments Katie Eaton, Creative Director at bluemarlin New York. "The clever use of negative space draws the eye, signalling that this is something new and different, whilst its bold simplicity reassures consumers that it is undeniably Battery."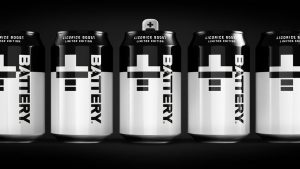 Henna Mertsola, Director of Communications and Innovation at Sinebrychoff comments, "Battery has a powerfully different perceptive to its competitors in the energy drinks category. It is not only our positive attitude, but also our commitment to innovation that sets us apart from the rest. Bluemarlin's striking and stylish creative solutions continue to support the brand in its ambitions to grow by providing energy drink experiences that are bold, exciting and refreshing."