Allt-A-Bhainne goes against the grain with a design by bluemarlin
Pernod Ricard UK has partnered with independent strategic design agency bluemarlin in the creation of Allt-A-Bhainne, a disruptive Single Malt challenger brand. With a design unshackled by tradition and unbound by convention, the new brand aims to drive category growth, appealing to a new generation of whisky explorers who are not afraid to choose the unexpected.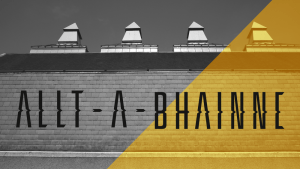 Unlike its centuries-old competitors, distilling for Allt-A-Bhainne (pronounced "Alta-Vayne") began in 1975. It was originally used as a component of the Chivas Brothers blends as Chivas Regal and 100 Pipers. Now, 43 years later, this sophisticated, multidimensional Single Malt is striking out on its own in the UK market.
Taking a bold step away from the well-worn category codes of history, tradition and process, Allt-A-Bhainne dares to liberate itself from the rules in matters of taste and attitude. The team at bluemarlin were tasked with bringing this spirit to life with an identity that embraced the future rather than revering the past, and a 2D/3D packaging solution that set the scene for easy-going, casual interactions.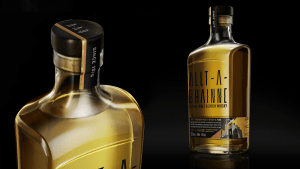 The new brand marque features bespoke typography crafted to reflect the brutalist architecture of Allt-A-Bhainne's distillery. Featuring a continuous strikethrough, it conveys the brand's forward-thinking uniqueness and modern edge. Confidently displayed in the centre of the bottle, the marque creates brand impact that is arresting and immediate. It is complemented by a strong sans-serif font, appearing in all caps, to communicate the brand's story in a straight-forward, unfettered way.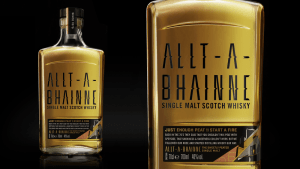 The lower label includes an illustration of the Speyside distillery in all its industrial beauty. Employing geometric shapes and a minimalist style influenced by the 1970s, it further reinforces the brand's break from romantic histories of whisky lore. Vibrant tones of orange capture the sweet and smoky flavour profile of the spirit.
The bespoke bottle, reminiscent of a canteen or flask, supports the brand's desire to create a single-malt whisky freed from formalities. Unintimidating and not so serious, Allt-A-Bhainne is a spirit not for the drawing room, but for anywhere you are and anywhere you go. The understated, yet powerful original structure drives this point home whilst also helping the brand standout from its more ostentatious competitors. The final touch is a simple sealing tag that proudly confirms, 'Since 1975.'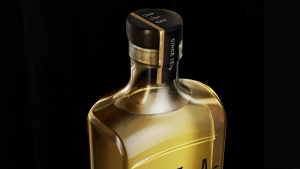 "From its unconventional taste to its irreverent attitude to its category-breaking design, Allt-A-Bhainne is a Single Malt that does it it's own way," comments Jordan Scott, Associate Creative Director for Bluemarlin. "For us, it was an incredible opportunity to tell a new story and to be completely liberated from the rules. The result is brand expression that stands out with authenticity, not gained by age, but born out of spirit."
Chris Ellis, commercial director for Pernod Ricard UK, said "The world of single malt whisky is often focused on history, heritage and how things used to be done. Speyside is known for its fruity whiskies but Allt-A-Bhainne goes against the grain by including peat, creating a unique and unconventional flavour. The single malts category is growing globally and the peated segment is leading this growth, growing on average almost twice as much as unpeated. Initial consumer research has been extremely positive."