Bluemarlin's legendary rebrand of Crowmoor Cider
International brand design agency bluemarlin has rebranded Crowmoor Cider for leading Finnish brewery Sinebrychoff, bringing to life its mythical origins and reaffirming its status as a pioneering cider in the Finnish market.
The cider boom has all but fizzled out, with its new associations with fruity flavours appealing to the youthful exuberance of its fledgling drinkers. To stay relevant, Crowmoor needed to assert its commitment to craft and heritage without seeming stuck in the past. Bluemarlin's strategic solution lay in a new positioning that played upon the legends of Crowmoor's original brand story, infusing it with a refreshingly humorous twist.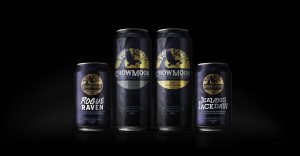 As the Crow Flies
Bluemarlin began by developing a brand story that shifted Crowmoor from being merely dark and mysterious to being more playful. The design and the brand story makes the crow the hero, as the carrier of an apple that would eventually be the seed of a first mythical orchard in Finland.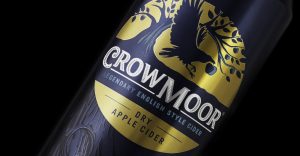 The new identity brings this legend to life with a new brand marque, featuring a blooming tree and the apple carrying crow, surrounded by the light of a moon. Updated typography with subtle curls playfully reflect the brand's folkloric story, igniting the imagination whilst also delivering powerful impact at shelf. No longer black and sinister, the cans are now midnight blue with accents of cyan to enchant the eye.
Birds of a Feather
In addition to designing Crowmoor's core range, bluemarlin was tasked with developing a brand architecture strategy to support portfolio expansion. This led to the creation of the 'Crooked Apple' range, a series of bittersweet ciders that are ideal for food pairing. Bluemarlin crafted product stories inspired by Crowmoor's bird lore and packaging aligned with the new design strategy. The range's first two offerings include 'Jealous Jackdaw' described as a sweet and sour cider with a grown-up edge, draws on the small bird's mischievous reputation (and attraction to shiny objects) and 'Rogue Raven,' an authentic English style cider with a hazy look and pleasingly sour after taste.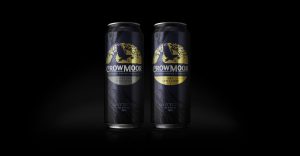 "Crowmoor has always had an intriguing story rich in charm and rooted in tradition," comments Katie Eaton, Creative Director at bluemarlin NY. "Our design solution elevates this story to legendary status by creating a focus on brand. The new full moon badge helps Crowmoor stand out on shelf, whilst the design details and textures support its shift from a mysteriously dark persona to mischievous fun personality."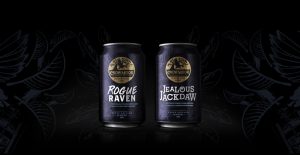 Alexander Sneen, Vice President of Marketing at Sinebrychoff comments, "Crowmoor is embarking on an exciting new chapter, one that celebrates its distinctive taste and commitment to craft with a more playful and rebellious character. The new identity balances imagination with intrigue, authenticity with approachability, brand standout with premium subtly. The new brand strategy will help Crowmoor keep the pace with Finnish consumers changing tastes and attitudes, supporting the brand's ambitions for future growth."