Deliciously fun designs for Britannia Treat
Britannia Industries Limited, India's leader in the premium cream biscuits category, has restaged its popular sandwich cream biscuit brand, Treat. In addition to a new proposition that leverages uninhibited, ingenious fun and a new delicious product featuring crunchier, chocolatier shells with super soft cream in-between, Treat's packaging has received a significant redesign created by international strategic brand design agency, bluemarlin.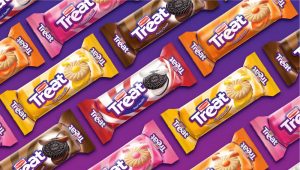 Treat is Britannia's largest selling sandwich cream biscuit brand, and with this restage, the company aims to boost its leadership and infuse much needed excitment and growth into the category. The new young-at-heart packaging with its vibrant shelf-throw will play a key role in supporting Britannia step up its appeal to tweens and teens.
With robust expertise in working with Indian brands, bluemarlin was given the task of creating a powerful brand identity that expressed the Britannia Treat's promise to be a partner for ingenious, no-holds-barred fun. The scope of the redesign project included brand identity, packaging, and developing nomenclature for the different variants.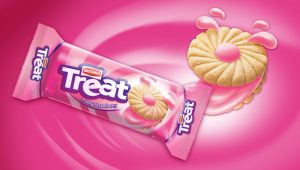 The universal language of Emojis inspired the new identity, giving Treat a brand expression that is contemporary, confident, and clever. The sandwich biscuits become smiling faces with the yummy cream filling creating different Emoji expressions. This bit of wit goes a long way in conveying the brand's fun-loving spirit and prankish personality.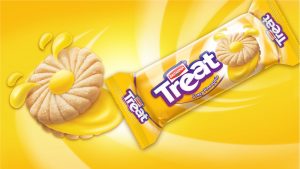 A vibrant new colour palette reinvigorates the brand with self-assurance, allowing the brand to successfully colour-block at shelf to create a poweful presence. The Treat wordmark has also received the Emoji treatment with a playful new typography that has subtle curves to resemble cheeky cheeks.
To add even more fun into the mix, the names of the variants such as 'Funky Chocolate,' 'O'som Orange,' and 'Naughty Jam' reflect the rascally personality of the brand.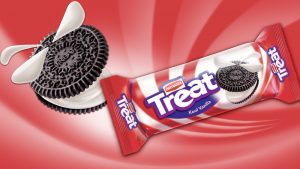 "We wanted to make it clear that Britannia Treat is India's favourite sandwich biscuit," comments David Hodgson, Creative Director and Co-Founder of bluemarlin. "The new identity brings out the brand's 'fun-in-between' promise in a contemporary way that is no longer only for kids. With its vibrant new energy, the packaging design supports the brand's goal to make a bold and distinctive statment in the busy Indian marketplace."
"Bluemarlin's design solution is fresh and defines an active visual language that will speak to our new target audience of tweens and teens," comments Ali Harris Shere, Director Marketing, Britannia Industries. "It is not only relevant now, but will provide a strong platform for Britannia Treat to grow in the premium cream biscuit segment in the future."
—
Bluemarlin is a strategic brand design agency committed to liberating brands from the ordinary. Independent in spirit, we combine strategic depth and creative adrenalin to ignite brand acceleration.
To view our portfolio and connect with our team, please visit www.bluemarlinbd.com