Buckwud Organic maple syrup aims to drive pure growth with new design by bluemarlin
Buckwud Organic Canadian Maple Syrup has been redesigned by brand acceleration agency bluemarlin. The new look recently launched nationwide.
Buckwud began its life in the UK as a premium brand with a quirky Canadian personality. It is now the single largest branded maple syrup on the market, loved for its distinctive taste and used as a natural, plant-based option to alternative sweeteners.
Bluemarlin was briefed to refresh Buckwud, dialling up its strong credentials as an organic, pure, plant-based product whilst amplifying its unique character to achieve stronger shelf-standout.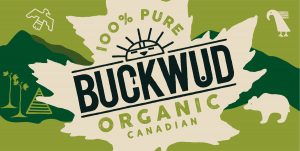 "Buckwud has several design attributes that give it a wonderful presence as well a strong recognition as a premium brand," comments David Hodgson, Creative Director at bluemarlin. "Our redesign needed to retain that positioning whilst prioritising these visual assets in a way that created greater clarity, enhanced its unique character, and improved brand standout on shelf."
The new design cuts back on the clutter to deliver stronger brand impact. A natural green colour scheme reflects its 100% pure and organic credentials whilst also adding vibrancy and approachability. Copy is clear and characterful, introducing a new dimension to the brand that is both proud and playful.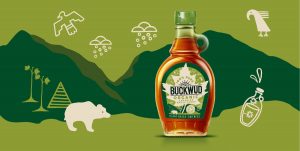 "Buckwud has always told a brilliant provenance story through design. In this latest evolution, the brand has found the confidence to allow itself to be simple," comments Hodgson. "This reinforces its credibility as a natural product so it can maintain its appeal to consumers seeking healthy indulgence whilst also making itself accessible to the everyday consumer looking for great taste."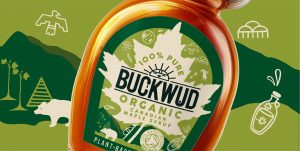 "Buckwud has been on an incredible journey ever since it was introduced into the UK market. According to the latest Nielsen data to 28.11.2020, Buckwud is now worth £5.1m in retail sales and has grown significantly at +33.8% in the latest 52 weeks alone, making it the number one SKU and maple syrup brand in the UK. Buckwud has a loyal base of consumers who appreciate its natural, organic, plant-based purity and its delicious taste which made Buckwud a Great Taste Award 2020 winner," comments Hanenne Madi, Brand Manager at Valeo Foods. "Bluemarlin's impactful new design revitalises the brand with newfound energy and zeal. We hope it will help us introduce the Buckwud to new consumers who find great value in great taste."
Up next...