A slice of cheesy humour for Leerdammer
Last month we unveiled a stand-out out-of-home marketing campaign aimed at repositioning Dutch cheese Leerdammer as a top-of-mind choice in the UK market.
Leerdammer, which is owned by Lactalis Group, approached us with the challenge of making its mild and nutty-flavoured cheese more appealing to a broader audience. While Leerdammer is known for its distinct taste and iconic hole-filled slices, it struggled to stand out in the competitive cheese market, often overshadowed by more traditional options like Cheddar and Red Leicester.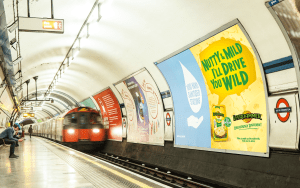 A slice of fun
Our creative response was to infuse the campaign with British humour and a touch of irreverence. We aimed to leverage cheeky messaging to engage with consumers and highlight the unique characteristics of the Original and Light cheese slices. The campaign features playful, slightly risqué copywriting, making clever use of words to emphasise the cheese's gentle yet nutty flavour profile.
Catchy lines such as 'A Mild & Nutty Slice, Try Me Once, Have Me Twice'  and 'A Mild & Nutty Treasure, Your Ultimate Pleasure' can now be seen on billboards, trains, tubes and bus stops up and down the country, both digital and still. There are 5,000 placements in total, with an estimated reach of 22 million people. The campaign successfully marries the British sense of fun with the Dutch origin of Leerdammer cheese slices, bridging the gap to connect with more UK consumers.
The innovative visual language, using speech bubbles made of cheese, also celebrates Leerdammer's unique appearance – it is now unapologetically THE bright yellow natural cheese with distinctive holes.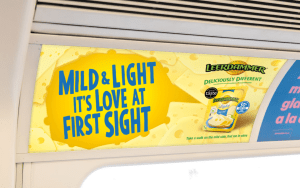 A cheeky bite
The approach also aligns with our long-standing reputation for pushing brands into innovative and unexpected territories.
Heloise Le Norcy-Trott, Group Marketing and Category Director UK Lactalis Group, said: "We gravitated towards bluemarlin because we wanted a dynamic communication concept to rejuvenate Leerdammer's positioning and entice UK consumers to select our brand. It needed to be groundbreaking, compelling consumers to reevaluate our brand's essence. We approached bluemarlin because it combines unparalleled experience with brave brand activation, so we knew it was the right agency for us. bluemarlin has given Leerdammer a new personality that we know will appeal to a wide British audience – we're delighted with the work."
The OOH campaign also sets up the brand for future SKU launches, including Leerdammer Grated.
Gareth Roberts, Design Director at bluemarlin, said: "We wanted to breathe life into Leerdammer and give Brits a new reason to buy by making a virtue of its distinctive character. The results convey the very essence of Leerdammer and remind UK consumers that it's a matchless, wholesome and delectable taste experience – as well as being lighter and less processed than many of the other slices on the market."