A changing world, our proposition – The Brand Acceleration Agency, a Q&A with our CEO, Andrew Eyles.
A changing world requires an evolving proposition – The Brand Acceleration Agency, a Q&A with our CEO, Andrew Eyles.
Let's chat a bit about bluemarlin, set the scene, where have you come from?
David and I set up the business in 1993, we're 28 years young and it's always been about 'work to live', not 'live to work'. 1998 saw us venture overseas for the first time. First Australia, then Asia, and into US in 2005 with a NY studio – accelerating our brands impact as we grew clients around  the globe.. By 2012 we were 5 studios around the world, open 6 days a week, with 100+ employees. Today we're more  consolidated, an experienced agile and nimble team, with hubs strategically located in UK, USA, LATAM and India.
Trying to get clients to pay fair commercial value for what people saw as 'colouring in' was a challenge in the early days, so we brought in more rigour and process to what we were doing, anchoring our creative  solutions in effectiveness and increase profitability. ROI removed any reservations on the contribution we made.
The Brand Acceleration Agency is delivered through depth, adrenaline and growth. In short, depth goes to the strategic rigour of discovery and definition that comes from  analysis, adrenaline goes to our creative fire power,  and growth is the promise and result of creative strategy executed well that effectively  drives up brand and shareholder value.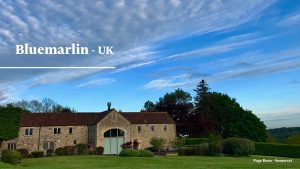 So, what's next?
As we approach our 3rd decade, bluemarlin must be digitally led with a full 360 brand communication capability, and change it's business resourcing  model.
Brand experience has always been about the hand, heart and mind, encouraging consumers to fall in love with brands through a better physical and a more emotional engagement.  
The seismic shift in how consumers discover, customise and buy brands, their specific products and services, was already underway pre pandemic. Isolation and restricted access has simply accelerated the shift from analogue to digital experiences, changing purchasing behaviours perhaps forever.
Over my commercial lifetime I've seen generalism evolve to discipline specialism, and on again to micro ultra-segmentation within discipline, but now we are seeing demand for specialists who can think like a challenger, and deliver creatively, agnostic of channel or medium.
Clients are attracted to brand thinking and marketing from one integrated team, which is stronger and more potent through collaboration,  offers customised experience, and has the agility to adapt and evolve in an increasingly customer centric and consumer driven world.
What does acceleration really mean?
For me it's always been associated with achieving something special and exceeding expectation, and therefore it's about improving, expanding, reaching somewhere sooner, realising your dreams and imaginations. It's a metaphor of motion. You feel the intensity, the pace of evolution and exploration, your eyes take things in faster, your senses are more aroused, your adrenaline rises.
Acceleration in business is physiologically stimulating, it rewards you for getting to a better place, it's a perpetual wave of highs, and important 'learning' lows,  that makes life very motivating.
Has acceleration really been a part of what you have always done?
I think it's been something that I have personally tried to champion in both my personal and professional life. For me it's the fuel that allows me to love what I do, and do what I love most.
It really came to life when we wrote our company manifesto and values with the guiding principle BE BRAVER. This is a way of democratising acceleration. It's a challenge to everyone we work with and for every one of us here, every single day, to be braver and be bolder, in our thoughts, words, deeds, to be more ambitious with our clients, to push ourselves to succeed, and create meaningful change.
In highlighting our proposition of acceleration, what can you expect that maybe wasn't there before?
We've got a very good track record of adapting, of listening to our clients needs, and of speculating in markets where others are yet to prospect. That's why we have survived for 28 years, and we are now in a new era of challenge, with traditional routes to market disrupted not just by digital empowerment, but marketing specialisms converging, as clients seek more efficient use of budgets and demand higher ROI.
We're still doing great brand thinking and amazing 'design', but that's a word that will become less defined by specific 2d graphic or 3d structural expression, and more associated with integrated brand solutions. We're a richer broader church of creative thinkers, increasingly using the mediums of digital and motion graphics to communicate, inform and entertain.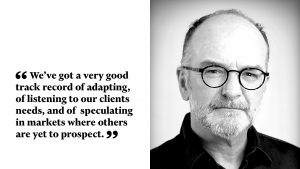 How are we able to promise and deliver on acceleration?
I think it's felt through our process, that has been engineered to deliver progress. What the client wants will naturally frame what the agency delivers, but it's a collaborative process to meet and exceed ambition. For the consumer it's about progressive companies and brands bringing them smarter, better, kinder and more responsible solutions, that they can enjoy as products and services.
Clients want to hear 'how we're going to grow your business'. Once achieved,  you get a seat at the 'influencer'  table and you're not just seen as a creative partner but a business partner. You are enriching what that brand stands for with more meaning and more values. You're not selling a commodity, you're selling an experience, you're linking that to a purpose, creating a real reason for being.
Why should our clients care about acceleration?
Clients may think of an agency as a cool creative shop but if they don't move the dial on the commercials then it's redundant. Beyond financials, acceleration is also measured in people's attitudes to the brands they are buying, their intension to advocate. It's about creating content that's so attractive that it gets free advertising, wins awards, adds to the effectiveness, and we seek proof of that to validate our purpose.
What we do is incredibly cost effective – an example being one Indian client making their investment in our services back in just 5 days through accelerated sales. Effectiveness instills confidence and cements relationships!
So, looking forward.
If we can do a project ourselves, we 100% will – but if there is a bigger opportunity then we'll put the right band together.
We have an incredibly talented senior core team now, but also a bigger partnership model with freelancers, contractors, specialist vendors and other agency partners. We are open to much more collaborative opportunities and solutions, and we're structuring our business in the braver way that works better for our clients. It allows 'soup to nuts' solutions – it's high-level commercial business consulting, creatively expressed, across all brand touchpoints, not just through brand design.
Want to know more? Feel free to get in touch with us on newbusiness@bluemarlinbd.com
Up next...