Brave New Female
In 2004, Dove's Real Beauty campaign celebrated every woman at every age and with every body type as it changed the conversation from seeking perfection to seeking confidence and comfortability in your own skin. In 2015, Sport England graced us with its 'This Girl Can' campaign that redefined femininity with raw strength, brutal truth and beautiful intensity. And in 2017, Bodyform took a risk by showing blood (or at least red liquid) in its commercials for sanitary pads. The #bloodnormal campaign created quite a bit of controversy for some, but for many others (approx. 46% of the population), it was refreshing, honest and about time.
Here are a few 2020 examples of brave brands using empathy and understanding to elevate the conversation and appeal to the fearless and fierce modern woman.
Body Form's #wombstories
Telling the 'unseen, unspoken, unknown stories of [women's] periods, vulvas, and wombs', Bodyform's #wombstories weaves an eclectic mix of animation with real footage covering such topics as the joy of childbirth, the devastation of miscarriage, the pain of endometriosis, the uncomfortably of menopause and the embarrassment of menstruation accidents. It's colourful, powerful, heart-breaking and humorous as it charges through stigmas and smashes through taboos with its beautiful, unabashed truth.
Glossier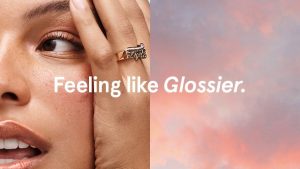 With their direct-to-consumer, co-creation model, Glossier is a beauty brand that focuses on what really matters – helping women become and be the best versions of themselves. The company got its start with Into The Gloss (https://intothegloss.com), a beauty website that created a community of women sharing the products they love and talking about the products they wished existed. This led to the creation of product line that is inspired, informed and in touch with real women. Glossier's approach is not just smart business. Its allowance for and acceptance of uncompromising self-expression resonates with modern women who are tired of being talked to and would like to be heard.
Mooncup Redesign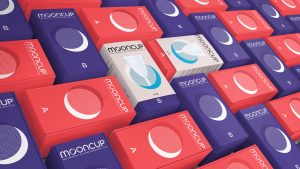 From the beginning, Mooncup set out to change how women experience their periods into something more sustainable, healthier, and positive. In its latest rebrand (by the team here at bluemarlin), Mooncup demystifies a subject full of apprehension and misinformation. By harmonising the functional with the emotional, it turned what was once a personal hygiene purchase into something desirable without seeming trendy and transitory.
Bailey's "Reclaim her name"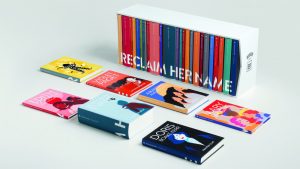 A campaign that celebrates women's creative achievements by finally giving them their fair dues, the Bailey-sponsored "Reclaim Her Name' initiative will see twenty-five novels written by women under male pseudonyms get a re-release under their real names. Bailey's, who worked in collaboration with the Women's Prize for Fiction, demonstrates an understanding of the frustration, challenges and sometimes, insurmountable odds that women must deal with, historically as well as today. Whilst there may no longer be any reason for a female writer to use a man's name, current issues from sexism to gender bias to harassment, must be acknowledged, so they can be dismantled.
What is on the horizon for women consumers and how must brands evolve?
 As female consumers continue to overcome societal uncertainties and the constraints of outdated stereotypes, they are finding a deeper sense of awareness. In their persistence to reveal, reclaim and, in some cases, rejoice in the things that were once hidden, diminished and ignored, they are recognising the need to raise their voice for change. We are seeing more and more women turn to activism in support of all disenfranchised groups, and as such, becoming a gender that stands for inclusivity and ethical practices.
To get under the skin of the brave new female, brands must commit themselves to the honest portrayal of the real lives women live. They must realise that women are no longer looking to conform to the ideals of beauty or the construct of the 'softer sex', but rather to use their purchasing power to make bold statements, supporting purpose-driven brands that align with their empathetic values, championing equality, acceptance and justice for all.
The impact of these campaigns can't be denied. Across all categories, there's been a definitive shift in how to market to women that is unafraid to be powerful as well as poignant, breaking taboos to speak the truth, and resonating with women everywhere who are ready to be all that they can be – and simply who they are.