Thatchers Rascal's silver streak at the FAB Awards
We're feeling absolutely FAB about our Silver DESIGN EFFECTIVENESS win for the rebrand of Thatchers Rascal.
Striking the right balance between authenticity and attitude, the updated design for Thatchers Rascal drove modern premiumness as well as growth for the first time in three years. With a new look and a new name, it transformed consumer perception of the brand from 'old-fashioned' to 'legendary' and reclaimed distribution in the on- and off-trade. The design also paid for itself in less than a year, priming it nicely for future success.
Making Rascal Relevant –
and Successful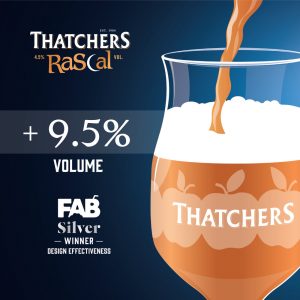 We share this award with our client partners at Thatchers, and thank them for giving us the opportunity to do what we do best – accelerate brands through insight-driven design, ensuring they live in the hands, hearts and minds of consumers to deliver a more profitable future.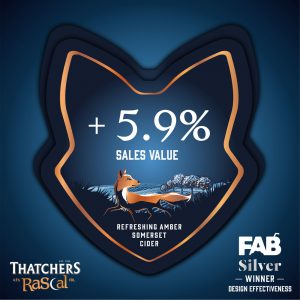 An international awards program focused entirely on work done for Food and Beverage brands, FAB identifies and awards agencies for their transformative work in delivering creative excellence and effective commercial results.
Up next...