Battery Juiced up & ready to go with positive vitality
Finnish energy drink brand Battery has expanded its portfolio with Battery Juiced, an innovative new range made with real fruit juice for an all natural taste. Design for the new offering was brought to life with positive vitality by brand acceleration agency bluemarlin.
Battery Juiced is for health-conscious consumers looking for a more natural and refreshing way to get that all important energy lift and make each day count. It's a 'better-for-you' alternative packed with the good stuff that provides positive energy, stimulating the taste buds as well as invigorating the mind with two deliciously fresh variants – Exotic and Citrus.
Dan Monteith, Executive Strategy Director at bluemarlin comments, "More and more, energy drinks are being perceived as unhealthy. Juice energy innovations, however, are more acceptable and as such, there has been a surge of exciting new offerings featuring designs that are softer and more colourful, focused on natural energy and flavour verses the adrenalin-pumping aesthetic that characterises the category."
As Sinebrychoff's long-standing creative partners, bluemarlin was tasked with developing a brand proposition and design for the new range. Whilst the new line needed to sit rationally within the Battery portfolio, the visual expression needed to dial up elements of freshness, flavour, and vibrancy.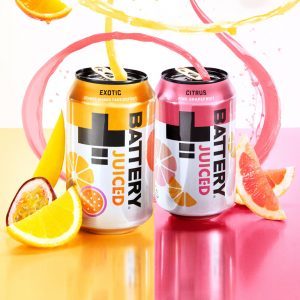 Adding revitalising dimension to the core brand, the design for the Battery Juiced range communicates exceptional taste and superior refreshment for consumers looking for a natural source of positive energy. The iconic black cans are now white, providing a pure and simple background that is more associated with natural products. Bright pops of colour along with graphic illustrations of slices and wedges reflect the real fruit ingredients and authentic taste. A subtle droplet in the Juiced wordmark reinforces the quenching drink experience.
 "Our challenge was to break the negative associations with energy drinks and replace it with a positive association with natural vitality," comments Katie Eaton, Creative Director at bluemarlin New York. "The design is light and bright, elevating fruit flavour cues while still conveying the brand's overarching ethos of transforming everyday challenges into wins with positive energy."
"Battery Juiced is a natural evolution for the Battery brand, aligning perfectly with our positive message and illustrating our commitment to drinks innovation," comments Henna Mertsola, Director of Communications and Innovations at Sinebrychoff. "Bluemarlin has helped us make a definitive splash in this sub-category with a design that is exciting, enticing and inviting. It's refreshingly new whilst staying true to Battery."
Up next...