Leander Club celebrates 200 years with an 'early landed 1990' limited edition vintage Grand Champagne Cognac designed by bluemarlin
Founded on the Tideway in 1818, Leander Club is recognised the world over for its extraordinary achievements, having won more Olympic medals than any other single sports club in the world. To celebrate its 200th anniversary, Leander Club will be selling a limited quantity of Grande Champagne Vintage Cognac 1990, with packaging designed by strategic brand design agency bluemarlin, to raise funds for its elite development programme of rowing athletes.
As home to many GB rowing heroes and to the champions of tomorrow, Leander Club has an internationally recognised reputation for encouraging fellowship, achieving excellence and competitive success, and valuing its heritage. Bluemarlin was tasked with creating a label and outer box that reflected the traditional codes of the Cognac world whilst also capturing the aspirational spirit of Leander Club and its values of integrity, teamwork, focus and commitment. The project demanded a premium execution with a high level of craftsmanship to commemorate 200 years of outstanding achievement.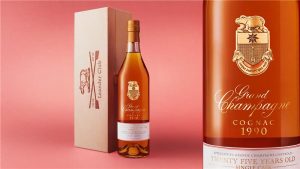 Ornate yet dignified, the design for Leander Club's Commemorative Cognac embodies tradition, excellence, and achievement. Inspired by the Honour Boards at the Club's headquarters in Henley-on-Thames, the design features Leander Club's logo, embossed in gold and prominently placed in the centre of the bottle – a Hippo walking across the torse of the shield of the Star and Arrow, homage to the two original rowing clubs that founded Leander in 1818. The inscription reads, "Corpus Leandri Spes Mea" which roughly translates to "the limbs of Leander and my hopes".
Elegant gold foil lettering further extols the bicentenary event as well as the premium quality of the Cognac. The back of label tells the story of the Cognac, from its distillation twenty-eight years ago to its maturation in English cellars, and a description of its outstandingly delicate and floral nature by a Master of Wine. Labels were applied by hand and the bottles were individually wrapped in bespoke Leander 'pink' tissue paper. Finally, each bottle of Cognac was placed in wooden box with the Leander's Hippo, crossed oars, and the commemorative dates of 1818 – 2018 burned onto the lid.
"It was an honour and a privilege to help Leander Club celebrate 200 years of achievement, fellowship and excellence," comments Andrew Eyles, bluemarlin's Founder and CEO. "We wanted our design to reflect the incredible legacy of Leander Club heroes past and present. The Club's victories served as inspiration for our work and we are extremely proud of the part we played in raising a glass to Leander Club's 200-year celebration."
"Leander Club's commitment to excellence is one of the reasons it has flourished for 200 years," comments Chris Hartley, Chef du Cave and Leander Club Member. "Bluemarlin has mirrored this fantastic spirit with its own commitment to craftsmanship and creative excellence. The design is refined and polished, reflecting the provenance of this fine Cognac, and its own journey, whilst embracing the Club's values of fellowship, achievement and honour."